SHELINA DONKERS
EINDHOVEN | NETHERLANDS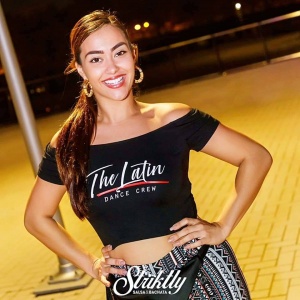 Salsa
This young woman is a very talented, sensual dancer. It was clear at a very young age that dancing is in her blood. Whether it's street dance or salsa, she does it all with full dedication, takes up the challenge and rises above it!
Shelina started preforming at a very young age, when she, together with her dance partner back then, won a lot of prizes with spectacular shows. Since then she travels the world to attend congresses where she keeps on learning and refining her dancing skills because standing still is not an option for her.
Her dance classes are characterized by the elegant feminine touch she gives to al the body movements. Salsa with a touch of seduction is why dancers love her as a teacher. Shelina combines beautiful arm movements with quick footwork and femininity as a finishing touch.
Now she has her own dance school, The Latin Dance Studio in Eindhoven, where she and her brother translate her passion for dancing in to clear and cosy classes.
Watch on youtube