Mariano & Bella "MarBella" - Malmö Dansakademi
SWEDEN | USA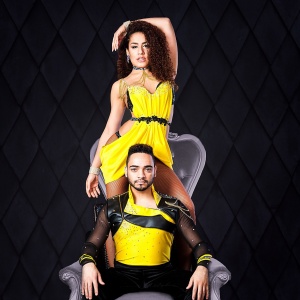 Salsa
Mariano Neris II is a Latin dance coach, choreographer, performer, brand ambassador/model, trumpet player, and graduate from the Berklee College of Music. Neris is Boston's fastest rising Mambo headliner. Inspired by the likes of the late Michael Jackson, Fred Astaire, and the mambo king Eddie Torres, Neris has been recognized worldwide for his unique mambo style. After successfully completing his undergraduate degree in Business Management, Neris spends a considerable portion of the year on tour; marking his presence at Latin festivals, teaching lessons, showcasing, choreographing routines for groups and couples, and training dancers all over the world, sharing his passion for the Latin dance industry. Neris has been a choreographer and dancer for NG2 and Elvis Crespo's newest music video "Tenia Que Acabar" filmed in Old San Juan, Puerto Rico. He has also performed for Latin music giants Richie Ray and Bobby Cruz, Gilberto Santa Rosa, Tito Allen, and more. In his decade in the professional dance circuit, Neris has become one of the many special attractions Latin dance congresses/festivals worldwide requests to have at their event.
Bella Malekian is the CEO, founder, and head choreographer at "Malmö Dansakademi" in Sweden. Malekian's vision is transparent throughout the dance academy; a dancer should be well rounded and educated in more than one genre. With that vision intact, she encourages aspiring dancers to learn an array of dance styles, so they too can be versatile. On a weekly basis, Malekian teaches around 15 classes, those of which include: Salsa, Latin fusion, samba, reggaeton, dancehall, feminine show jazz, belly dance, and Bollywood. She also directs three dance performance teams; Bellasitas, Obsession, and Dominators, which perform weekly. On occasion, she also arranges dance trips with her students to numerous parts in the world, so they can perform, learn, and get inspired. Malekian has also trained and performed with some of the best in the Latin dance industry; Eddie Torres, Griselle Ponce, Yamuleé, and Karel Flores. In 2016, Malekian won 1st place at the Salsa Solo USA, and won 2nd place at the World Salsa Solo the same year.
Due to their shared vision, Mariano and Bella have teamed up to not only perform highly energetic shows, but with the pure desire to inspire dancers to grow. With their combined expertise, Mariano & Bella, better known as "MarBella," have trained dancers to compete at World renowned competitions. They have not only excelled, but in less than one year they have garnered over 30 trophies and medals. While on tour, MarBella now offer a wide variety of workshop styles. Their workshops include: Mambo Musicality, Shines and Body Movement, Lead & Follow Techniques, Mambo Partnerwork, Dominican Bachata, Men/Ladies Styling, ChaChaCha Shines/Parnerwork, Latin Jazz, Latin Fusion, DanceHall, and Pachanga just to mention a few. More recently, MarBella has been invited to perform as guest stars at the "SuperBowl" of Salsa, the World Salsa Summit 2016. They were invited to dine with the King of Sweden and his Royal family due to Bella Malekian's riveting accomplishments with her dance school, Malmö Dansakademi. They performed in a sold out stadium in front of over 50,000 people in attendance at the "Dia Nacional de la Salsa" in Puerto Rico 2017 with Latin megastars: La India, Victor Manuelle, El Gran Combo de Puerto Rico, Andy Montañez, Guillo Rivera, and Camilo Azuquita. MarBella act as ambassadors, models, and representatives for their shoes and apparels sponsors, Salsa Sexxy. MarBella is a 2-time and current team shines salsa champions at the 2017 World Salsa Summit. As MarBella's dance and business ventures blossom, they continue to focus on nurturing new and ongoing talent year round, exclusively at Malmö Dansakademi in Sweden.
Watch on youtube