Luis Vazquez
LOS ANGELES | USA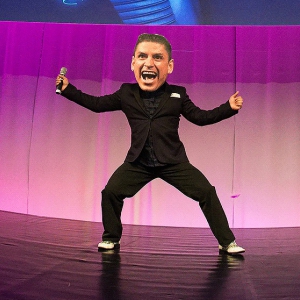 Salsa
Luis Vazquez is an Instructor, Choreographer, Performer and Master of Ceremonies from Guadalajara, Mexico. He moved to Los Angeles California and began dancing in 1992. He is one of the pioneers of the popular LA salsa style together with his brothers Johnny Vazquez and Francisco Vazquez. Luis has been traveling to more than 150 countries to participate in dance festivals and appeared in television shows such as City of Angels, Sinbad Vibe, The Rosanne Show, commercials such as Coca-Cola and California Lottery, music videos like Bio Ritmo - Bin Bin, films like Dance With Me and Looking For Lola where he have worked with artists such as John Travolta, Jennifer Lopez, Vanessa Williams, Jimmy Smith and Quincy Jones.
Together with Joby Arranda he co-created Salsa Brava Productions in 1994, the first salsa dance company in Los Angeles. His creativity in music, costumes, routines and stunts has taken showmanship to the next level as well as paved the way for many other dancers. He was one of the first choreographers that created shows with costumes and steps that people never seen before. He changed the salsa scene completely. Salsa Brava was one of the most respected and well known dance companies in the world and inspired many dancers and dance companies, like Tropical Gem, Salsa Dance Squad; Super Mario,Susana Montero, Leon Rose, Jazzy Ruiz, Ramon Morales, Liz Lira, Jennifer Silva, Edie The Salsa Freak and many more. In 2004 Salsa Brava was dissolved and Luis started to dance with Melissa Fernandez. They moved to Europe in 2006.
In 2010 Luis moved to Malmö where he is running Love Dance Academy together with Weronika Pilat. With his creativity and passion for the dance, Luis wants to inspire people to reach and exceed their dancing boundaries. His aura, personality and vibrant energy are contagious. Besides weekly dance lessons, Luis and Weronika are the founders and organizers of Love Dance Festival in Malmö, Sweden. Luis wants to share his experience and love for the dance with you!
Luis specializes in many latin dances like salsa, bachata, cha-cha, merengue, cumbia and mambo. He is also working as an Master of Ceremonies and telling jokes. He have been working on tv with programs and commercials, videos and movies like:
Tv programs: City of Angels, Sinbad Vibe, The Rosanne Show, Donnie & Marie Talk Show, Moesha, Los Beltran, Kiki Desde de Hollywood, Dangerous Minds, Sábado Gigante Contest Winner, Brotherly Love, Noticias 34 Univision.
Tv commercials: Coca-Cola, Payless Shoe, California Lottery, Bud Light.
Music videos: Maxwell, Bio Ritmo "Bin Bin".
Movies: Dance With Me (1998), Looking For Lola (1998).
Stage: Academy Awards Fashion Show, The Wedding Planner Premier Party, Latin Jazz Festival – Hollywood Bowl CA, The Four Tops Concert, Tito Puente Show, Sinbad's Soul Music Festival – Aruba, Ana Barbara Coors Promotion, World Salsa Congress – Puerto Rico, Diversity Awards, Feather Awards, Los Angeles Dance Awards and many more.
Watch on youtube