Karel & Marco
New York/Milano | United States/Italy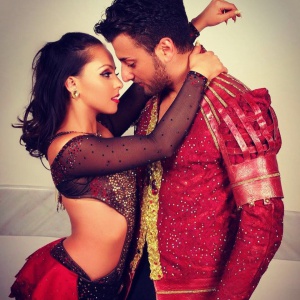 Salsa
Marco Ferrigno: Born in Salerno 7 September 1986 he began his career at age 12 and began forming internationally as a dancer . In 2000 turnsout the Salsa Open and perfected his work in various dance styles such as flamenco, modern jazz, new york salsa style, afro and rumba. He is today one of the most popular artists worldwide with his dancer Haridian Benavente. He has participated in the following conferences: Milan, London, New York, Atlanta, San Francisco, Sao Paulo, Rio De Janeiro, Caracas, Curacao, Amsterdam, Brussels, Madrid, Santiago De Compostela, Benidorm, Portugal, Porto Lisbon, Tunisia, Istanbul, Frankfurt, Monaco and many others ..
in 2008 he founded his own name PANTS PRODUCTION BALLET company having success all over the world with various choreographic projects and two productions of a duration of 60 min POETRY "AND THE PURE" .. pure dance between dance salsa and various mix of rhythms Latin.
PANTS home for 6 years with honor dancers as NATALIA LOPEZ TOLEDANO AND JESSICA QUILES HERNANDEZ (Champions in 2013 in Puerto Rico Salsa Open).
Currently he has one of the world's best dance companies "Ansima". Since January 2015 Marco has the honor of having as his new partner one of the world's best salsa dancers, directly from NEW YORK CITY, KAREL FLORES.

Karel Flores was born and raised in Mexico City Mexico into a family or artists. From very young, Karel was exposed to both acting and dancing, from forming part of every dance group in school to taking up on main roles in Mexican soap operas.
Throughout the years, she took up on acting, jazz, Hawaiian dancing and cheerleading but these were only extracurricular activities and she never imagined actually making a career out of dance nor acting. However, not until her late years in high school that she discovered the dance that would change her life, salsa. Being an overachiever, Karel moved cities to be able to train with the best dance co. In Mexico "salsa con clave" directed by the world-known Víctor and Gaby. However her hunger to learn didn't stop there.

After about 6 months, she decided to go to NYC for only a few months to try to learn as much as she could. However, those few months turned into now 8 years, when during her stay she was invited to join her dream dance company, Yamuleé.
Training directly under Osmar's direction she was able to constantly alternate with his permanent dance partner. Not long after an opportunity arose when Osmar's former partner decided to take a break from dance. With not a moment of hesitation, Karel embraced the opportunity and shortly after, she became Osmar Perrones' official dance parter.
Years of training and hard work has allowed Karel to become a world wide known top dancer and instructor. With Yamulee dance co., As the director's former partner and female lead dancer, and now as a solo artist, instructor and choreographer, Karel has traveled and conquered hearts and stages from North to South America, Europe and Asia.
Currently Karel is thrilled to be dancing along with one of the world's best male dancers and instructor, Marco Ferrigno, from Italy.