Curtis & Carola
Madrid | Spain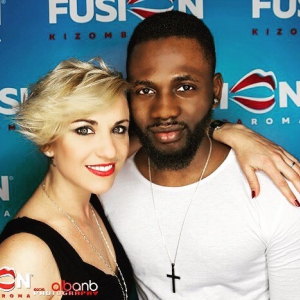 Kizomba
Born in Kongo on the 21th of June 1986 Curtis came to France at the age of 3. He was raised in a world of celebration; rich in music and dance, a mixture of many influences and african rythms thanks to his father, a producer of many african musicians such as Papa Wemba Geo Bilango etc.
Passionate, creative and ambitious he began to fulfill his dream in the artistic society creating his label "Change my life records", which would become a stepping stone for him to a collaboration with some of the most renowned artists.
In 1998 he was discovered by recruiters from a soccer team who gave him the opportunity to be part of a portuguise team for one year. As a right winger with a good technique and good dribbling skills he quickly proved his place in the team. However, in order to persue his passion in the music business he abandoned his soccer career. Dina Mendes is one of his greatest successes as a productor. For the moment the singer is one of the most wanted artists thanks to her single "I want it" feat Mika Mendes.
His encounter with the kizomba in 2011was a complete and utter fulfillment. He left everything to live his passion and to dedicate himself completely, together with his partner Cherazad. They were thrilled to participate in Sensual Madrid 2011.
Always searching for new experiences, Curtis participaded in the international kizomba/semba competition Africadancar in 2012 and classified for the semifinals in France with Monika. They had the honor to represent their country in the finals in Portugal.
Curtis Seldon is at the moment one of the best international instructors in kizomba and semba with his flawless pedagogy and great career for the last three years. He has contributed a lot to the kizomba and he is a rolemodel to look up to for his style and dance. He is one of the few instructors who master both kizomba and semba. He is a globetrotter and shares his passion with simplicity and humility. He is the creator of urban kiz, a style which is influenced by several dance styles such as hiphop, tango, RnB and contemporary, which he made popular in 2012 during his partnership with his previous partner Cherazad. Thanks to them urban kiz spread throughout the world and his style is appreciated by a majority of the kizomba fanatics.
In 2014 Curtis and Cherazad split up and he continued his path sharing his passion. He has collaborated with many female dansers, among them Gigi and Macarena. In 2015 Curtis asked Carola Tauler, previous partner of Albir, to become his partner and she accepted. Today they are doing a remarkable job spreading the urban kiz and the kizomba. They are one of the most wanted couples in the world thanks to their pedagogy, their good spirit and their style. You can find them at the most popular festivals in kizomba in Europe.
Watch on youtube